Bloomfield Veterans Cemetery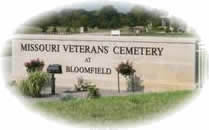 The Missouri Veterans Cemetery at Bloomfield conducted its first interment on September 29, 2003. The cemetery has an approximate capacity of 27,000 gravesites. The cemetery is located on 65 acres of the historically significant and scenic Crowley's Ridge in the bootheel of Missouri. The cemetery shares a common entry way with the historical Stars and Stripes military newspaper museum.
Facilities include an administration building with a reception area and public restrooms. An enclosed and heated committal shelter is used for interment services. The committal shelter has two attached columbarium walls which contain 800 niches for the interment of cremains if desired. The committal shelter, columbarium wall and flag pole area form a plaza for the conduct of other formal memorial ceremonies. A small lake containing a red, white and blue lit fountain and encircled by a walking path forms the south end of the cemetery. Once an hour a random song played by an on site carillon tower echoes throughout the rolling grounds. Grey granite memorial benches for rest and reflection are located throughout the cemetery.
Conduct of the Interment Service
The traditional graveside service is held in the committal shelter. The shelter provides ample pew seating for the immediate family and is large enough to provide inclement weather protection for numerous service attendees. A podium and public address system is provided for the clergy or ceremony speaker. The committal shelter plaza area forms a natural and appropriate facility for the rendering of military honors for Veterans. Following the service, cemetery personnel escort the remains to the assigned plot and complete the interment.
Location and Driving Directions
The cemetery is located on highway 25 on the southern edge of Bloomfield and appropriately adjoins the historical Stars and Stripes military newspaper museum.
From interstate 60 take highway 25 north exit toward Bloomfield. Travel approximately 4 miles north and the cemetery will be located on the west side of highway 25.
If arriving from the north on highway 25 travel through Bloomfield and the cemetery will be located at the southern edge of Bloomfield on the west side of the road.
For additional information, please call the cemetery at (573) 568-3871.
Office Hours
The cemetery office is located in the administration building and is open Monday through Friday from 8:00 am until 4:30 pm. The office is closed on state and national holidays.
Photos
Click on the photos below to see enlarged images.