Employee of the Month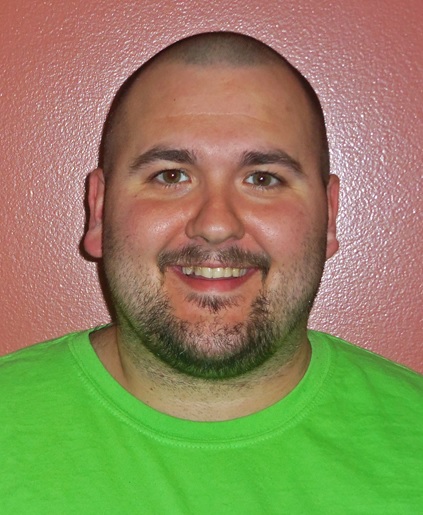 July 2016
Shane McGhee, Activity Aide II for the Missouri Veterans Home – Cape Girardeau, was selected as the July 2016 Missouri Veterans Commission Employee of the Month.
Shane was nominated by his peers and selected because of his heroic efforts to save a Veteran, while putting his own life in danger.
Shane, who is also a CNA, frequently volunteers in the nursing department by working additional shifts. Recently, the facility experienced a small fire starting in one of the Veterans' personal rooms. Shane was assigned to the hallway that the fire took place and was first upon the fire. He reacted quickly and correctly, doing everything just the way he was supposed to.
Shane entered the room and rescued the Veteran. He bear-hugged the Veteran by himself and pulled him to safety while putting his own life in danger as well. The Veteran's clothes were still on fire when Shane rescued him to a safer place and Shane patted the flames out with his hands.
His quick reaction and response saved this Veteran's life as well as many others as the fire was contained to a very small area allowing all the other Veterans on the hall to be brought to safety within a short amount of time.
Shane has what it takes to be a great leader. He leads by example himself, his work ethics are outstanding and he is always looking for more ways to help the Veterans. He treats the Veterans like his own family, having a genuine caring relationship with each and every one of them.
While employed with the Missouri Veterans Commission Shane has day after day exemplified true dedication to the Commission's Mission Statement of honoring and serving our Veterans. He is a true role model for all Commission staff and his dedication for those we serve reflects well on the Commission as a whole and on himself in particular.
Shane will be honored July 6, 2016 at a 3:00 pm ceremony at the Missouri Veterans Home – Cape Girardeau in Cape Girardeau, Missouri.
Congratulations Shane!
The Missouri Veterans Commission has established the Employee of the Month Program to recognize employees within the Missouri Veterans Commission for outstanding service. If you would like to recognize a fellow co-worker for their outstanding service, please refer to your program's policy manual for nomination procedures.