Employee of the Month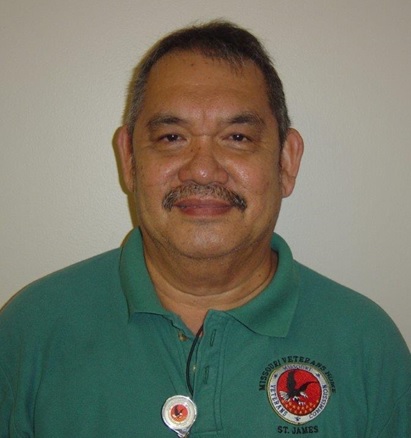 August 2017
Democrito Saberon, Custodial Worker I for the Missouri Veterans Home – St. James, was selected as the August 2017 Missouri Veterans Commission Employee of the Month.
Democrito was nominated by his peers and selected because of his infectious, positive personality that has won over every Veteran, co-worker & visitor at the Missouri Veterans Home - St. James.
An example of Democrito's personality was when there was a Veteran that seldom interacted with others and routinely preferred to not participate in routine care. However, the Veteran enjoyed visiting and interacting with Democrito. Once it was the connection between Deomocrito and the Veteran was recognized and shared by staff, the Veteran's overall care improved immensely. It seems to the Veteran that anything Democrito suggested or recommended was a good idea.
Democrito understands his job description and qualification limits, yet offers to assist with communication, encouragement and most definitely his routinely expected job duties.
While employed with the Missouri Veterans Commission Democrito has day after day exemplified true dedication to the Commission's Mission Statement of honoring and serving our Veterans. He is a true role model for all Commission staff and his dedication for those we serve reflects well on the Commission as a whole and on himself in particular.
Democrito will be honored August 7, 2017 at a 2:00 pm ceremony at the Missouri Veterans Home – St. James in St. James, Missouri.
Congratulations Democrito!
The Missouri Veterans Commission has established the Employee of the Month Program to recognize employees within the Missouri Veterans Commission for outstanding service. If you would like to recognize a fellow co-worker for their outstanding service, please refer to your program's policy manual for nomination procedures.