Employee of the Month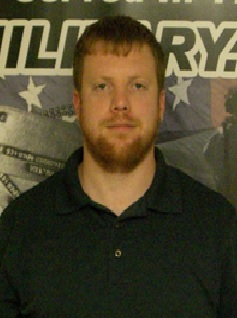 April 2017
Collin Volkart, Veterans Service Officer for the Northwest Region, Independence, was selected as the April 2017 Missouri Veterans Commission Employee of the Month.
Collin was nominated by his peers and selected because of his dependability to the Veterans he served as well as to his co-workers.
Collin is always willing to help out in other offices when an absence occurs and when it was decided to move the Blue Springs office to Independence, he was very instrumental in getting the new office up and running in a short time.
While employed with the Missouri Veterans Commission Collin has day after day exemplified true dedication to the Commission's Mission Statement of honoring and serving our Veterans. He is a true role model for all Commission staff and his dedication for those we serve reflects well on the Commission as a whole and on himself in particular.
Collin will be honored April 14, 2017 at an 11:00 am ceremony at the Smokehouse BBQ restaurant in Independence, Missouri.
Congratulations Collin!
The Missouri Veterans Commission has established the Employee of the Month Program to recognize employees within the Missouri Veterans Commission for outstanding service. If you would like to recognize a fellow co-worker for their outstanding service, please refer to your program's policy manual for nomination procedures.