Springfield Veterans Cemetery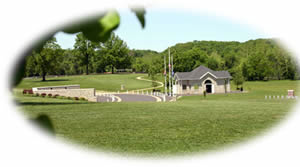 The Missouri State Veterans Cemetery in Springfield is the result of a partnership between the Department of Veterans Affairs and the Missouri Veterans Commission. Realizing the National Cemetery in Springfield would soon approach full capacity, plans were made to ensure Veterans in southwest Missouri would have access to a Veterans cemetery. The result was the establishment of the Missouri State Veterans Cemetery at Springfield, with the first interment conducted on 10 January 2000. Situated on 60 tranquil acres, the cemetery has an approximate capacity of 30,000 gravesites. The cemetery also contains two attractive columbariums for the placement of cremains. The cemetery facilities include a committal shelter, administration and maintenance area, and paved walkways with benches for rest and meditation.
Conduct of the Interment Service
The interment service is a traditional graveside service although it is held in the committal shelter. Brief remarks and prayer by a member of the clergy are followed by full military honors. Upon conclusion, the cemetery staff will transport the remains to the interment site.
Location and Driving Directions
The cemetery is located adjacent to Lake Springfield, south of Springfield, just off Highway 65. Highway signage will direct you to the cemetery via the Evans Road exit, and then north on South Southwood until you reach the cemetery. For additional information, please call the cemetery at 417-823-3944.
Office Hours
The cemetery office is located in the administration building and is open Monday through Friday from 8:00 AM until 4:00 PM. The office is closed on state and national holidays.
Photos
Click on the photos below to see enlarged images.