Executive Director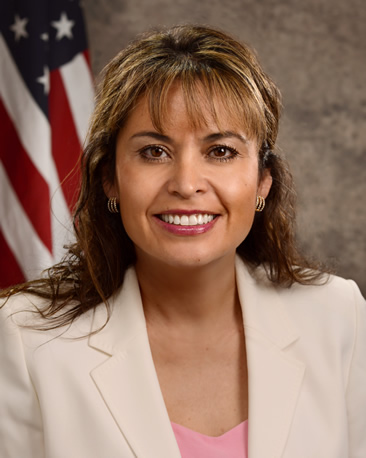 Col Grace Link is the Executive Director of the Missouri Veterans Commission where she is responsible for oversight of seven Missouri State Veterans Homes, five Missouri State Veterans Cemeteries and 44 Veteran Service Officers statewide serving Missouri's Veterans in applying for their VA benefits. Concurrently, Col Grace Link is also the Director of Staff for the Missouri Air National Guard at the Joint Force Headquarters-Missouri. As the Director of Staff, she is responsible for all Missouri Air National Guard operations of over 2,200 personnel. Col Link is the principal advisor to the Adjutant General on all aspects of air operations. As such, she develops and executes plans, policies, programs and procedures to develop the Air programs of the Missouri National Guard.
Col Link deployed to Guantanamo Bay, Cuba, for six months where she served as the 474th Expeditionary Civil Engineer Squadron Commander for the Expeditionary Legal Complex in support of Operation Enduring Freedom at Joint Task Force – Guantanamo.
Col Link was commissioned in 1993 at the Academy of Military Science at McGhee Tyson ANGB, Tennessee. Before assuming her current position, Col Link served concurrently as the 139th AW Deputy Mission Support Group Commander and Civil Engineer Squadron Commander. She had responsibility and oversight for over 150 full-time and over 400 part-time personnel in the Force Support Squadron, Logistics Readiness Squadron, Civil Engineer Squadron, Security Forces Squadron, Communications Squadron, and Base Contracting Office. She was responsible for programming, coordinating and executing all military construction, fire protection, environmental protection, and emergency management programs affecting more than 1,100 Guard members and civilians in over 335 facilities with a total plant value of $162M on 450 acres. She has served in various assignments including 139th AW Environmental Engineer, Mission Support Group Executive Officer/Communications Officer, Medical Group Bioenvironmental Engineer, and Services Commander. Col Link originally enlisted with the 126th Logistics Readiness Squadron in Chicago, IL, and has over six years of enlisted experience.
Awards and Decorations
Meritorious Service Medal (with two Bronze Oak Leaf Clusters)
Air Force Commendation Medal (with Bronze Oak Leaf Cluster)
Air Force Achievement Medal (with Bronze Oak Leaf Cluster)
Air Force Outstanding Unit Award (with Bronze Oak Leaf Cluster)
Air Reserve Forces Meritorious Service Medal (with Bronze Oak Leaf Cluster)
National Defense Service Medal (with Bronze Star)
Global War on Terrorism Expeditionary Medal
Global War on Terrorism Service Medal
Air Force Expeditionary Service Ribbon (with Gold Border)
Air Force Longevity Service Award (with Silver Oak Leaf Cluster)
Armed Forces Reserve Medal (with Silver Hourglass)
Small Arms Expert Marksmanship Ribbon (Pistol)
Air Force Training Ribbon (with Bronze Oak Leaf Cluster)