Higginsville Veterans Cemetery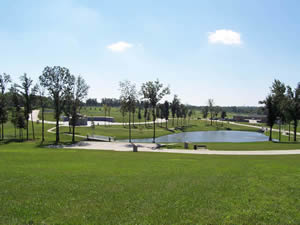 The Missouri Veterans Cemetery at Higginsville conducted its first interment on 10 January, 2000. The cemetery is located on 55 gently rolling acres in an attractive rural setting. The cemetery has an approximate capacity of 24,000 gravesites for our veterans and their spouses.
Facilities include an administration building, public restrooms and maintenance facility. An enclosed committal shelter is used for the interment service. The cemetery also includes a columbarium wall for those who choose cremation. A small lake, bordered by a walking path, is located in the center of the cemetery. Benches are located throughout the cemetery, offering opportunity for quiet reflection.
Conduct of the Interment Service
The service is essentially a traditional graveside service although it is held in the committal shelter. The service consists of brief remarks and prayer by a member of the clergy followed by military honors. Immediately following the service, the cemetery staff will transport the remains to the interment site.
Mailing Address
20109 Business Hwy 13
Higginsville, MO 64037
Phone: (660) 584-5252
Fax: (660) 584-9525
Office Hours
The cemetery office is located in the administration building and is open Monday through Friday from 8:00 am until 4:30 pm. The office is closed on state and national holidays.
Photos
Click on the photos below to see enlarged images.