Jacksonville Veterans Cemetery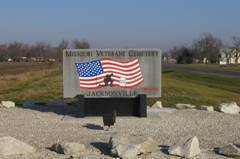 In response to the desire of Missouri Veterans to be buried in a military cemetery, the Missouri Veterans Commission and the National Cemetery Administration established a State Veterans Cemetery at Jacksonville to serve the Veterans of Northeast Missouri. The first interment services were held at the Jacksonville facility on November 3, 2003. The cemetery is situated on 117.4 softly contoured acres which includes a 10 acre lake. Within this extremely attractive location, 59 manicured acres represent the first development phase of the cemetery. This area encompasses an administration building, maintenance facility, committal shelter for interment services, columbarium wall for placement of cremations, lake with floating fountain, and a walking path with a bridge spanning the lake. The tranquility of this magnificent setting is further enhanced by a carillon tower which plays a different hymn each hour. The developed portion of the cemetery has approximately 40,000 burial sites along with the Columbarium that has 800 niches for cremations.
Conduct of the Interment Service
The interment service is a traditional graveside service although it is held in the committal shelter. The shelter provides ample pew seating for the immediate family and is large enough to provide inclement weather protection for numerous service attendees. A podium and public address system is provided for the clergy or ceremony speaker. The rendering of military honors for the Veteran is then performed in the committal shelter plaza area. Following the service, cemetery personnel escort the deceased to the assigned plot or columbarium niche and complete the interment.
Mailing Address
1479 County Road 1675
Jacksonville, MO 65260
Phone: (660) 372-6024
Fax: (660) 372-6099
Office Hours
The cemetery office is located in the main administration building and is open Monday through Friday from 8:00 am to 4:30pm. The office is closed on state and national holidays.
Photos
Click on the photos below to see enlarged images.